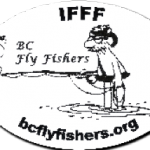 The Mission of the BC Fly Fishers is to
1)    Promote the sport of Fly Fishing.
2)   Teach best methods of Fly Fishing, Fly Casting, and Fly Tying.
3)   Uphold Fly Fishing values: respect for the environment, courtesy, patience,
      and integrity.
4)   Act as a regional resource for Fly Fishing in the Southern Tier of NY and
       surrounding areas.
5)   Promote resource conservation.
6)   Leave a legacy of Fly Fishing to future generations.