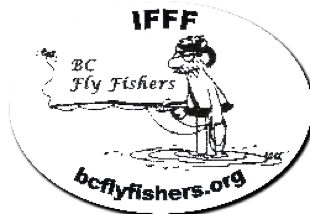 IF YOU WISH TO NOMINATE SOMEONE FOR AN IFFF AWARD, PLEASE READ BELOW
Please review the criteria located at http://www.fedflyfishers.org/Tying/Awards/tabid/349/Default.aspx
You may submit your nomination via the nomination submission form that can be found by
http://www.fedflyfishers.org/Membership/Awards/AwardNominationForm.aspx
Darwin Atkin Memorial Fly Tying Achievement Award
This is an award created to recognize an IFFF member whose long-term contribution to fly tying is widely recognized and respected. This award is for outstanding achievement and demonstrated commitment of the person in significantly advancing the craft and art of fly tying.
To preserve the integrity and prestige of this award, it is recommended that it be awarded judiciously and infrequently, but it is not intended that the frequency stipulation deprive a truly deserving individual.
Any member or Governor of the IFFF Fly Tying Group may nominate an IFFF member for this award. Nominations shall be forwarded to the Chairman of the Fly Tying Group Board of Governors. Selection shall be by the entire Fly Tying Group Board of Governors. A successful nomination shall require a 2/3 majority vote by the IFFF Fly Tying Group Board of Governors. Successful nominations will be forwarded to the IFFF Awards Committee for review and final approval.
Recipient will receive a special engraved plaque and a Life Membership in the IFFF. If they already have a life membership in the IFFF they will receive a Life FTG Membership. Their name will also be engraved on a master plaque on display at the IFFF office
Criteria for the award located at:
http://www.fedflyfishers.org/Portals/0/FlyTyingGroup/FTGDocuments/Awards/FTG_Darwin_Atkin_
Buz Buszek Memorial Fly Tying Award
The International Federation of Fly Fishers' Buz Buszek Fly Tying Award is the most prestigious award in the world of fly tying. The award was established as a memorial to Buz Buszek, a well-known fly tier and flyshop owner since 1943. His flyshop, simply called the Buz Buszek Fly Shop, was located at 400 North Johnson Street, Visalia, California. Mickey Powell, his son-in-law, who took over the shop, has written a fascinating personal view of the history of the Buz Buszek Fly Shop. Buz was a world-class angler, an excellent fly tyer and a dedicated teacher. He had a number of patterns to his name and his fly shop specialized in fly tying materials. Buz died suddenly in 1965. A Fresno club established an award in his name. Later, led in part by his wife, Virginia Buszek Perry, the Buz Buszek Memorial Award was established at the international level of the Federation. The award came with a one-inch gold feather recognition pin.
The First Buz Buszek Award was presented in 1970. By 1987, 18 awards had been presented, the last of which went to Dick Nelson. Virginia had purchased a total of 20 of the original gold feathers and told Darwin Atkin that she had given the last two pins to her daughters, Judy and Rosalee, in honor of their father. There were no more recognition pins to give to the award recipient!
IFFF Awards Chairman Ken Heimbecker led a design project and worked with Dick Nelson to establish a new pin for future awardees. Each step of the design was approved by Virginia, and she did not want the new pins to be identical with the original set. The double feather pin design was created. Dick's single feather pin was taken to George Stewart, a well-known jeweler in Los Gatos, California, who cast the new double-feather pin from impressions of the original one.
Under Darwin Atkins' leadership, the project was funded by the Phrozen Phantom Phlytyers who made fly plates and sold them to generate income. At the completion of the project, the mold and fifteen pins were turned over by Ken Heimbecker to IFFF Headquarters then located in West Yellowstone, Montana.
Criteria for the award
An award certificate presented annually to that person who has made significant contributions to the arts of fly tying.
· Must be an IFFF member.
· Can be an amateur or professional. (This is a difficult area. What an amateur does out of sheer love and enjoyment, a professional must do to make a living. Nevertheless, it is often the professional who, through their skills, offers more to the advancement of the art. Therefore, it will be necessary to make some judgment on intent. Obviously, if the primary intent is to teach and share knowledge, it should merit serious consideration.)
· Areas for judgment are: tying skill, creativity or innovation, and sharing knowledge by teaching or publication.
· Advancement of the arts need not be on a national scale, it can be at local or regional levels.
· Participation in the IFFF is not a prerequisite, but any such activity as benefits the Federation should be highly regarded.
Achievements and contributions should promote the advancement of the arts and qualification should be superior to other candidates
Dick Nelson Fly Tying Teaching Award
This award began in 2000 and is to be presented to an individual who excels in teaching the art of fly tying to tiers at all skill levels. It is named after Buszek Award-winning tier, Dick Nelson, who taught fly tying for many years and chaired the fly tying classes at the San Jose Flycasters for 35 years.
Dick's great love was teaching tying. He would rather teach tying than tie, he would rather tie than fish. Such was his dedication to teaching that two weeks before his death, confined to a wheelchair by a stroke and in declining health, he was giving private lessons in his home to a student who could not make the regular San Jose Flycaster's Tying Classes. Donations in his memory can be made to the Dick Nelson Fly Tying Teaching Memorial Fund.
The criteria for the award are described as follows:
Must be a member of the IFFF in good standing for a minimum of five years
Must be able to demonstrate and teach the varied skills of fly tying not necessarily an innovator. But able to teach techniques developed by others or themselves to tiers of all skill levels
Must have experience teaching both in group and individual environments
Service to the Federation may either be at the national, council or club level
The person should embody the spirit of the Federation, imparting both only a love of fly tying, but also of fly-fishing and the conservation of the resource
The person should have not previously won this award
The calendar now has all happenings at the Catskill Fly Fishing Museum