Facebook Link
ALL MEETINGS HELD THIRD THURSDAY OF THE MONTH AT THE GEORGE F JOHNSON LIBRARY 1001 PARK ST. ENDICOTT, N.Y. UNLESS OTHERWISE POSTED. CLICK ADDRESS FOR DIRECTIONS
 FISHING VIOLATIONS CALL DEC
DISPATCH AT

877 457-5680
It's Steelhead Time!
Speaker: Tim Barrett, local Guide, fly designer, and boat builder.
Where:    George F. Johnson Public Library (Downstairs), 1001 Park Street, Endicott
When:     Thursday November 17, 7:00 PM: Before the meeting at 6:30, Tim will demonstrate tying flies.
Salmon are continuing to spawn on the Salmon River. Browns are entering as well to feed on eggs and begin their Spawning.  Best of all, Steelhead (some over 20 pounds) are racing upriver in pursuit of their winter lies and are finding plenty of eggs to fatten up on.  Unlike Salmon, Browns and Steelhead are eager eaters at this time of year.  They are especially fond of egg patterns.  Although the weather can become unpleasant, if you dress warm and get into one of these beasts, your trip will be well worth it and you will not even notice the cold.
Fall Steelhead are extremely aggressive.  They will empty your reel in seconds and often put on a spectacular areal show.  However, landing one of these beasts is unlike all other species.  Several things need to happen to land one of these treasured fish. You need to discipline yourself when you hook up.
Tim will talk about rigging, presentation methods, and fly selection.  If you have never caught a steelhead, you should attend to find out how it's done. The skills required are very different than for stream trout and bass. He will also share some of his tactics for successfully tackling these big fish.  You'll be sorry if you miss this.
Tim is a local long time NYS Guide focusing seasonally on the Delaware Rivers, Catskill Streams, Adirondack Rivers, and Salmon River.
The public is invited and there is no charge for the presentation, which is part of the BC Flyfishers Chapter of IFFF monthly meeting.
SEE BELOW FOR MORE HAPPENINGS
 The custom made rod that was presented to our Chapter by Cortland Line company is now being raffled off. Go to PayPal page for details.. Good LUCK!

News for Immediate Release:                                                                   Facebook Link
Monday, July 25, 2016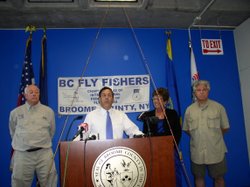 County Leaders Announce Donation to Veterans Fly Fishing Program
Binghamton, NY – Broome County Executive Debbie Preston, Broome County Legislators, and Director of Veteran Services Brian Vojtisek joined the Broome County Veterans Fly Fishing Program to discuss details of a recent donation to help the program.
Broome County recently gave $10,000 to the program to help offset costs for travel to fly fishing destinations to facilitate fly fishing instruction.
"As you know, veterans hold a very special place in my heart and I'm willing to help them out in any way that I can," says Broome County Executive Debbie Preston.  "Fly fishing is a wonderful activity and I'm on board with anything we can do to help our local veterans live the best possible life they can after sacrificing a part of their life for this Country."
The mission of the Binghamton Veteran Fly Fishers is to lift the morale and support the welfare of Broome County veterans.
"We want to thank the County Executive and Brian Vojtisek in the Veterans Services Office for this wonderful donation," says Gary Romanic, vice president of the Broome County Veterans Fly Fishing program.  "This money will go a long way in not only getting the veterans to prime fly fishing areas, but also to provide instruction to those who have never fished before."
"When we were approached for a donation last year, we were delighted to help," says Director of Veteran Services Brian Vojtisek.  "This program fits into our mission of helping veterans financially, and in adjusting to a return to civilian life."
This is a one-time donation.