ALL MEETINGS HELD THIRD THURSDAY OF THE MONTH AT THE GEORGE F JOHNSON LIBRARY 1001 PARK ST. ENDICOTT, N.Y. UNLESS OTHERWISE POSTED. CLICK ADDRESS FOR DIRECTIONS
 FISHING VIOLATIONS CALL DEC
DISPATCH AT

877 457-5680
Thursday September 22, 7:00 PM: Fly tying demonstration begins at 6:30
Speaker: Bill Kessler
Atlantic Salmon Fishing.
Bill Kessler is a devoted Atlantic Salmon fisherman having fished from a couple hundred miles north of the Arctic Circle in Russia, to Scotland, Ireland, and his "local" fisheries on the Gaspé Peninsula in Quebec and in New Brunswick.  Bill will describe the Atlantic's life cycle, habitat, and will describe various methods of fishing for salmon, using both wet and dry flies.   He will discuss the equipment — flies, lines, rods and reels as well as describe both single and double hand casting techniques and when to use them. Bill will bring samples of the equipment and flies and will regale us with stories of his most memorable experiences.
The meeting is open to the general pubic at no fee.
The public is invited and there is no charge for the presentation, which is part of the BC Flyfishers Chapter of IFFF monthly meeting.
SEE BELOW FOR MORE HAPPENINGS
Starting in September we will be raffling off the custom made rod that was presented to Cortland. Watch for details and Paypal for tickets!
News for Immediate Release:
Monday, July 25, 2016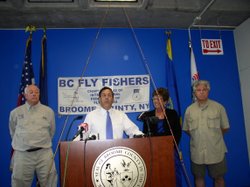 County Leaders Announce Donation to Veterans Fly Fishing Program
Binghamton, NY – Broome County Executive Debbie Preston, Broome County Legislators, and Director of Veteran Services Brian Vojtisek joined the Broome County Veterans Fly Fishing Program to discuss details of a recent donation to help the program.
Broome County recently gave $10,000 to the program to help offset costs for travel to fly fishing destinations to facilitate fly fishing instruction.
"As you know, veterans hold a very special place in my heart and I'm willing to help them out in any way that I can," says Broome County Executive Debbie Preston.  "Fly fishing is a wonderful activity and I'm on board with anything we can do to help our local veterans live the best possible life they can after sacrificing a part of their life for this Country."
The mission of the Binghamton Veteran Fly Fishers is to lift the morale and support the welfare of Broome County veterans.
"We want to thank the County Executive and Brian Vojtisek in the Veterans Services Office for this wonderful donation," says Gary Romanic, vice president of the Broome County Veterans Fly Fishing program.  "This money will go a long way in not only getting the veterans to prime fly fishing areas, but also to provide instruction to those who have never fished before."
"When we were approached for a donation last year, we were delighted to help," says Director of Veteran Services Brian Vojtisek.  "This program fits into our mission of helping veterans financially, and in adjusting to a return to civilian life."
This is a one-time donation.